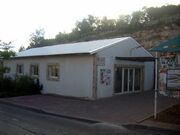 Gershon Goldman 993-2154
Morning Minyan
Edit
Sunday-Thursday 6:00 AM (Rosh Chodesh 5:45 AM).
Friday 6:00 AM (including Rosh Chodesh) and 7:30 AM.
Shabbat 6:30 AM and 8:30 AM.
Sunday-Thursday - no Minyan (go next door to Ohr Chaviv).
Friday 10 minutes after candle lighting

Shabbat Mincha Gedola Winter clock - 12:45 pm Summer clock - 1:15 pm
and Mincha K'tana (times change relative to sunset and are posted weekly outside the Shul).
Sunday - Thursday 8:15 PM
Motzash - Tzait HaShabbat.
Upcoming Smachot/Shul Activities
Edit
Ad blocker interference detected!
Wikia is a free-to-use site that makes money from advertising. We have a modified experience for viewers using ad blockers

Wikia is not accessible if you've made further modifications. Remove the custom ad blocker rule(s) and the page will load as expected.