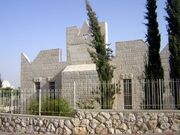 Gabbaim:

Reuven Karnei-Re'em - 993-3515
Yair Sherlo - 993-2990
Sunday-Friday Shacharit:

6:30 AM, Mon-Thu 6:15 AM, Rosh Chodesh 6:00 AM
Additional Minyan during Summer Vacation: 7:50 AM.
Note: If you do not live in the neighborhood, please park on Te'ena and walk down HaGo'el -- HaGo'el is a short cul-de-sac and will get very congested if visitors park while residents are trying to leave for work.
Sunday-Thursday Mincha:

Summer: 7:00 PM
Rest of year: Updated weekly

Sunday-Thursday Maariv:
Shabbat

Early Mincha Erev Shabbat: see times below
Regular Mincha Erev Shabbat: 10 minutes after candlelighting
Shacharit: 8:15 AM
Mincha Gedolah: 1:15 PM
Daf Yomi: 5:30 PM
Mincha Ketana: 6:15 PM
Early Mincha Erev Shabbat: (Please note: Mincha must be concluded before Plag HaMincha. Candles are to
be lit after Plag HaMincha.)
Ad blocker interference detected!
Wikia is a free-to-use site that makes money from advertising. We have a modified experience for viewers using ad blockers

Wikia is not accessible if you've made further modifications. Remove the custom ad blocker rule(s) and the page will load as expected.