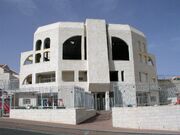 Nusach North Africa, zayit shemen 34.
Shir hashirim 15 minutes before minha
Mincha: at the time Shabbat Starts(according to the Tel Aviv time)
Daf yomi: at 7:00
Shaharit: at 8:00 "hodou"
Shaharit for kids 9:00
Shiur gemara following Shaharit
Tehilim: at 13:45 girls & 13:00 boys
Shiur halacha at 16:00
Women tehilim and shiur at 16:30 at David Cohen house
Avot U'banim at 16:45
Mincha: at 17:30
Shiur on messilat yesharim at 18:00
Arvit: 5 minutes before Motsaei Shabbat
daf yomi 5:20
shaharit 6:00
minha 15 minutes before sunset
Arvit: tset hacochavim
after arvit shiur guemara masehet souka
contact point Edit
avi look 050-5441070
lionel amar 050-6245434
Ad blocker interference detected!
Wikia is a free-to-use site that makes money from advertising. We have a modified experience for viewers using ad blockers

Wikia is not accessible if you've made further modifications. Remove the custom ad blocker rule(s) and the page will load as expected.