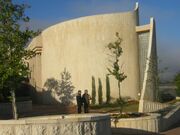 Rami Betzalel - 993-3166
Avi Auerbach - 993-2256
Chashi Freedman - 993-3956
Shacharit

Sunday-Thursday 6:15, 7:00
Rosh Chodesh 6:00, 7:00
Friday 7:00 only
Mincha 6:45 P.M. April through September, earlier in the winter
Daf Yomi everyday before the early shacharit:
Sunday-Thursday- 5:45
Friday (2 dapim) 6:00
Shabbat 7:30
Ad blocker interference detected!
Wikia is a free-to-use site that makes money from advertising. We have a modified experience for viewers using ad blockers

Wikia is not accessible if you've made further modifications. Remove the custom ad blocker rule(s) and the page will load as expected.