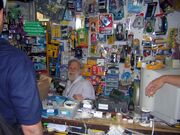 Full service hardware store. Also color photocopies, and laser printing of digital photographs.
Upper level of Te'ena Commercial Center, in the tunnel.
993-2778
Sun-Thu 8:30-13:00
MonWedThu 16:00-18:00
Fri 8:30-12:00
The sandlar (shoe repairman) collects from the store on Monday afternoons and on Friday mornings. He works from his home and returns the repaired goods at the same times.
Ad blocker interference detected!
Wikia is a free-to-use site that makes money from advertising. We have a modified experience for viewers using ad blockers

Wikia is not accessible if you've made further modifications. Remove the custom ad blocker rule(s) and the page will load as expected.