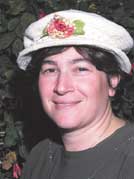 Born in South Africa, 36 years old, wife of Arie, mother of 4. Sharon came on Aliya immediately after High School with the MTA Bnei Akiva program. She studied at Bar Ilan University - Interdepartmental Division of Jewish Studies and Informal Education. While studying, Sharon worked in the Lookstein Center for Jewish Education in the Diaspora. Sharon is currently responsible for the NDS Computer Call Center and is Deputy Helpdesk Manager. Sharon has served as a member of the Zayit Cultural Committee and on the committee of the Zayit Askenazi Shul. Both committees placed a strong emphasis on social activities designed to create the atmosphere and opportunities for integration in a rapidly growing neighborhood.
Ad blocker interference detected!
Wikia is a free-to-use site that makes money from advertising. We have a modified experience for viewers using ad blockers

Wikia is not accessible if you've made further modifications. Remove the custom ad blocker rule(s) and the page will load as expected.