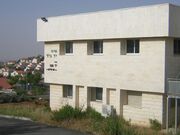 The Yad Beyad chesed center is a central location for a number of chesed organizations in Efrat. It is located under the library in Gefen (next to the Matnas). Other gemachim can be found here.
Yad Sarah
Edit
http://www.yadsarah.org.il
Loans of medical equipment.
Phone: 9932138
Hours

Sun-Thu 19:00-20:00
Fri 9:00-10:00

In emergencies, contact:

Noa Lev 9931216
Miriam Mousai 9931260
Bruria Rabinovitz 9931356
Hazan Et Hakol-Food Gemach
Edit
Nava Eizik 9932060, 050-8434797
Linda Wolbromsky 9931408, 054-5421143
Linda Marcus 9933006, 054-7424132
Clothing Gemach
Edit
Used clothing thrift shop
Hours

Tue 10:00-12:00
Wed 20:00-22:00

Contacts

Rabbanit Riskin 9931272
Ora Yanai 9931901
Clean clothing in good condition is accepted during hours
Keren Smachot
Edit
Tables, platot, hot water pots, utensils
Contact

Roni Diamant 052-834-8061
Chaim Gamliel 052-394-8531
Wedding dresses
Edit
Contact

Bruria Rabinovitz 993-1356
Machsan Chesed
Edit
Furniture, house needs
Hours
Contact

Devorah Cohen 9933503 054-5421143
Esther Edri 9933492 054-7307012
Bruria Rabinovitz 9931356
Gemach Aron Kodesh and Siddurim
Edit
Contact

Yehoshua Zonnenfeld 054-5718096
Machsan Hevra Kadisha
Edit
Needs for evel houses
Contact

Yehoshua Zonnenfeld 054-5718096
Ad blocker interference detected!
Wikia is a free-to-use site that makes money from advertising. We have a modified experience for viewers using ad blockers

Wikia is not accessible if you've made further modifications. Remove the custom ad blocker rule(s) and the page will load as expected.